Aragon Ballroom Interior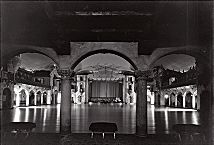 The Aragon Ballroom (1106 West Lawrence Avenue) opened its doors in July 1926 and quickly became a center of dance-hall culture in Chicago. Designed by Huszagh & Hill, the interior lavishly recreates a Mediterranean plaza, its arcades surrounding a huge dance floor suspended on a system of springs, cork, and felt.

Located in Uptown, alongside the "L," it drew dancers from across Chicago and the suburbs. In 1927, WGN began live broadcasts from the ballroom, spreading its fame nationwide. Tens of thousands came to the Aragon every week.

After the decline of social dancing in the 1960s, the Aragon survived by hosting rock concerts and other public events. With the recent popularity of salsa and swing, however, the Aragon is again becoming a destination for dancers.

Bibliography

Banks, Nancy. "The World's Most Beautiful Ballrooms." Chicago History 2.4 (1973): 206–215.

Nye, Russel B. "Saturday Night at the Paradise Ballroom: or, Dance Halls in the Twenties." Journal of Popular Culture 7.1 (1973): 14–22.