Chicago Hebrew Institute, 1914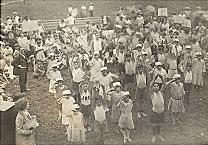 In the late nineteenth century, German Jews established cultural, social, and recreational organizations, now known as community centers, to assimilate the Eastern European Jews who had followed them to America. They organized the Maxwell Street Settlement House in 1893 in the Jewish neighborhood on the Near West Side. In 1903 Orthodox and Reform rabbis supported the founding of the Chicago Hebrew Institute (CHI), whose extensive offerings celebrated Jewish culture while promoting Americanization efforts. Its comprehensive sports program produced athletic champions who won attention and respect, helping to overcome the stereotype of Jews as cerebral but weak and cowardly. The Sinai Temple, with a new facility built in 1912, also won athletic prominence through its recreation center on the South Side. In 1921 the CHI changed its name to the Jewish People's Institute, and it followed the Jewish migration to the North Lawndale district in 1926.

Bibliography

Cutler, Irving. "The Jews of Chicago: From Shtetl to Suburb." In Ethnic Chicago, ed. Peter d'A. Jones and Melvin G. Holli, 1981, 40–79.

Gems, Gerald R. "Sport and the Forging of a Jewish-American Culture: The Chicago Hebrew Institute." American Jewish History 83:1 (March 1995): 15–26.

Meites, Hyman L., ed. History of the Jews of Chicago. 1990 [1924, 1927].