Chicago to Mackinac Race, 1905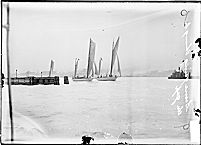 The Chicago Yacht Club's annual Chicago to Mackinac Race is the world's oldest and longest freshwater sailboat race. Each July, nearly three hundred boats make the 333-mile trip to Mackinac Island in two to three days. Sailors, some of whom have competed in over 25 "Macs" and are called "Island Goats," consider the race an outstanding test of boats and crews because of Lake Michigan's unobstructed waters and highly changeable weather conditions. Despite those conditions, there has never been a fatality and only one boat has been lost.

The sloop Vanenna won the first race in 1898 against four boats. In 1911, Vencedor ran aground and broke up in hurricane-force winds. That same year, Amorita finished first with a time of 31 hours, 14 minutes, 30 seconds—a record that stood until 1987, when Pied Piper finished in 25 hours, 50 minutes, 44 seconds. Because of handicap rules, neither boat actually won its record-setting race. In 1998, Steve Fossett's catamaran Stars and Stripes, sailing in a special "open" division that allows multihull boats, set an all-time record of 18 hours, 50 minutes, 32 seconds.

Bibliography

Tank, Deane, Sr., ed. Tales of the Mackinac Race, 1898–1998. 1998.