Topsy Turvy Times Display, 1926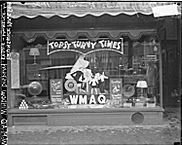 This longtime NBC outlet went on the air in 1922, when it was owned by the Chicago Daily News. In 1929, WMAQ-AM moved to the just-opened Daily News building and, two years later, once NBC purchased it, to the new Merchandise Mart studios. From there NBC originated many notable programs, none more infamous or popular than Amos 'n' Andy. The clear-channel radio station survived the coming of TV, but in March 1988 it was sold to Westinghouse and became noted for its all-news format. WMAQ-TV began on Channel 5 as WNBQ in September 1948; the call letters were changed in August 1964.

Bibliography

"WMAQ-Station File." Library of American Broadcasting, University of Maryland, College Park, MD.

The Story of WMAQ. 1931. Lawrence J. Gutter Collection of Chicagoana, University of Illinois at Chicago.