Second City Cast on Stage, 1960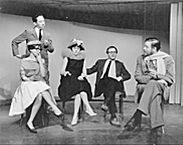 Opened December 16, 1959, at 1842 N. Wells St., the Second City cabaret theater was founded by a group of bright young artists, including many University of Chicago alumni, who had worked in such earlier, folded Chicago companies as the Playwright's Theatre Club and Compass Players.

Slyly named after a series of derisive New Yorker articles by A. J. Liebling, their theater quickly became a Chicago institution. The improvisational theater techniques of the original artistic director, Paul Sills, fueled its satirical comedy revues.

Second City's success became a key factor in establishing the legitimacy of homegrown talent in Chicago theater and prepared the way for the major 1970s expansion of resident theater in the city. Its reputation expanded with engagements in New York and London, extensive tours, training and touring companies, a permanent Toronto base in 1973, and a new Chicago home at 1616 N. Wells Street in 1967.

Already noted in its early years for the theater and film successes of such former cast members as Alan Arkin, Barbara Harris, and Severn Darden, Second City's fame accelerated in the mid-1970s, when several Chicago alumni, including John Belushi and Bill Murray, became stars of television's Saturday Night Live. Still more attention came from another TV offshoot by former Second Citizens, the 1980s series SCTV.

Second City's ownership shifted from cofounder Bernard Sahlins to Canadian Andrew Alexander in 1985. Its early hip, urban satire replaced by a broader base of humor references, the theater still uses a bare stage and a cast of five or six performers for each edition.

Bibliography

Sweet, Jeffrey. Something Wonderful Right Away: An Oral History of Second City and the Compass Players. 1994.